Individual Language Training for Companies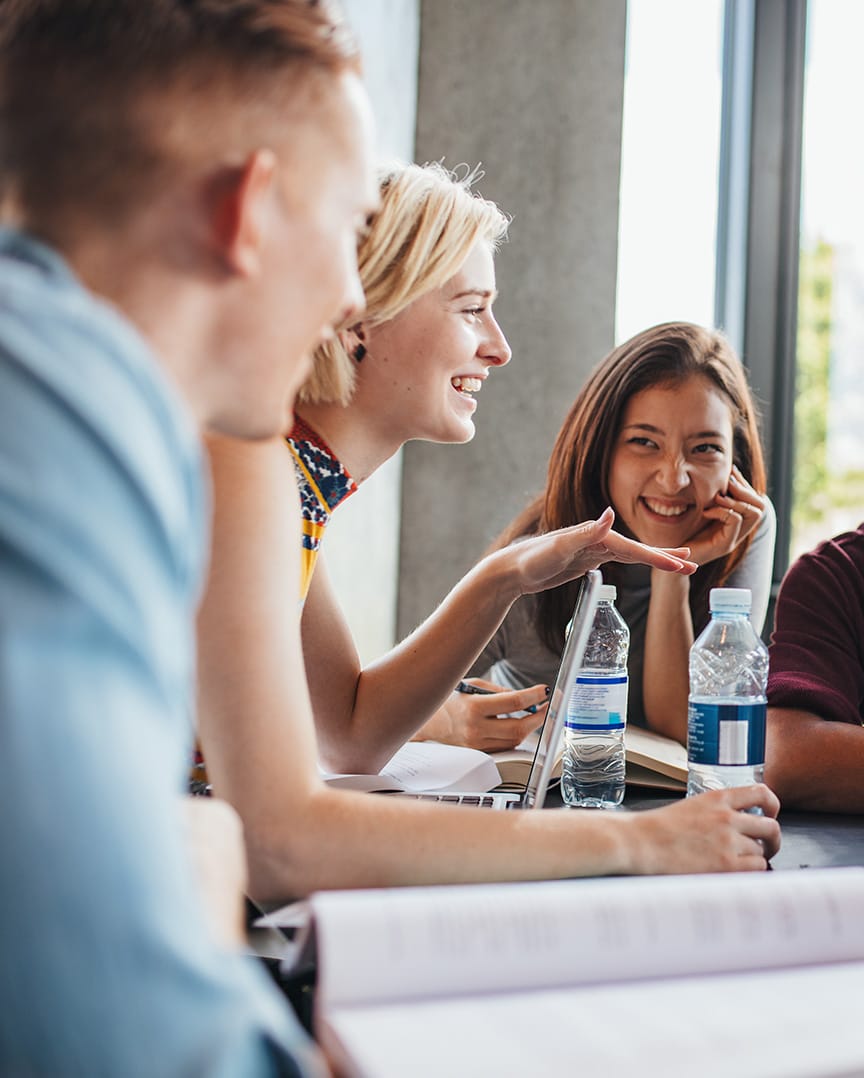 Learn, laugh, live language – good, successful language training is an exchange, a dynamic process. Everybody involved contributes with their experiences and interests, helping them to develop and grow. It should fill you with energy and confidence, rather than being just another addition to your busy schedule.
Language training works when you get everything right: a concept that suits your needs, a sustainable, effective method, a relaxed, personal learning environment, and mutual trust between you and us.
Language Training – Overview
Whether you are interested in general language training, business training, or language coaching in a specific area – we get to know each other in an initial meeting and give you comprehensive guidance. Together, we decide what type of training, what content and training times best suit your requirements. Do you have any special requests? We'll take these into account, developing appropriate suggestions and setting about jointly putting them into action.
You will be looked after from the outset by a designated contact person who will be on hand to answer any questions and deal with organisational issues. After familiarising themselves with the ins and outs of your company workflows, the contact person will develop a training plan and service package based on your specific needs. We will respond to your enquiry within 24 hours. You can rely on us to put your ideas into practice in a straightforward and efficient manner.
Training Materials
Modern, communicative textbooks based on the Common European Framework of Language Reference (CEFR) form the basis of our training. In line with the latest research in language acquisition methodology, we also use anything else that can help you make progress: individual material from language journals, topical press publications, digital media, different practical tips, tricks and helpful learning tools, and last but not least, any material relevant to your own work.
Intercultural aspects like social etiquette and special characteristics of your native language and your target language are obviously a key element of our training and can be found in materials for all levels.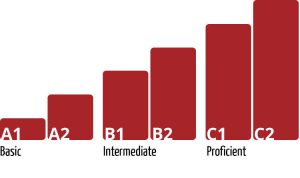 Common European Framework of Language Reference (CEFR)
Where does the language training take place?
We conduct training sessions in your workplace, meaning your training fits seamlessly into your working day, helping us to meet your each and every need. If you are away, working on a mobile basis or from home for a while, we can simply meet online. This isn't only the case for individual training, such as via Skype. With the appropriate technical requirements you'll never need to miss any of your scheduled group and individual training sessions. What is more, why not look at language in a more authentic context and take a walk around the streets, go to the supermarket, the café, or a local authority together? We are flexible!
Whatever format you choose:

We are flexible!
Tailor-made concepts for general and/ or company specific in-house training
modern, communicative training materials based on CEFR
personal supervision, comprehensive guidance and regular feedback
You can start any time; training times are flexible.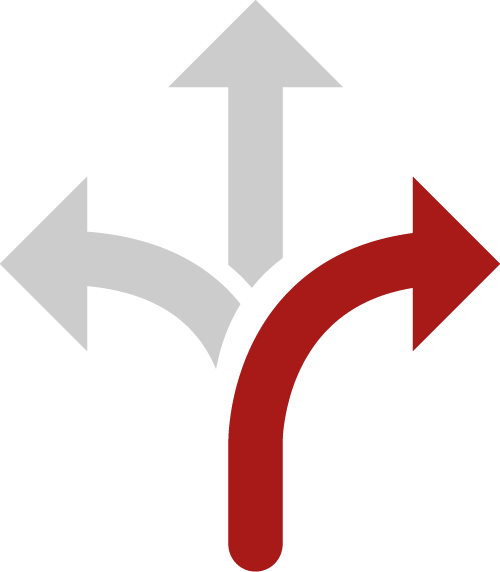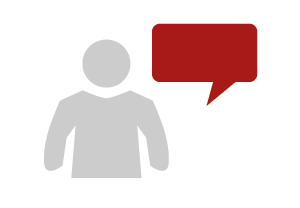 Individual training
eins-zu-eins: one student, one trainer. The most intense way of developing and expanding your language skills.
especially effective for employees with a full schedule and frequent business trips
maximum flexibility in terms of scheduling and content and perfectly tailored to your personality, schedule and specific needs
you always have the trainer's undivided attention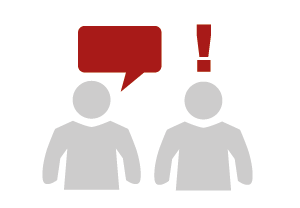 Group or Tandem Training
eins-zu-eins with a twist: two students – one trainer. An intense and individual training programme, reduced costs.
ideal for employees with very similar goals and needs.
high flexibility in terms of scheduling and content
two students means additional communication time in class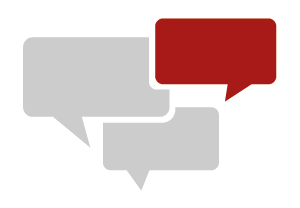 Group Training
eins-zu-eins also works in a group format: three or more students – one trainer, and an intense curriculum tailored to the group's needs.
ideal for employees of the same company or department with similar goals and needs
flexible schedule and content
increased motivation and opportunities for discussion and interaction
Professional Language Training in Hamburg
What our customers say
I have been attending Angela's and Walter's classes for some time now and my German has improved tremendously. I highly appreciate how dedicated and engaging the teachers are and how they adapt their teaching styles as well as materials to suit the needs, interests and personalities of the group. I highly recommend eins-zu-eins language training to learn German for private and professional everyday life.
Ivan Petkovic, Team Lead Agile Project Management, Xing SE

Learning German has always been so exhausting and tedious for me since my school days and my numerous teachers didn't make it any easier. With Angela as my teacher I enjoy my German lessons for the first time. Everything seems to be so much easier when she explains it. Meanwhile I have arrived at level C1 and we are now preparing for the official language exam.
Melanie Perez, Jr. Account Manager Inflight & Catering, Gebr. Heinemann SE & Co.KG
Meticulous, on-schedule proofreading exactly according to our specifications, even on weekends and when time is critical. Many thanks to the friendly and competent team of eins-zu-eins for our great and long lasting cooperation.
Nicole Klöpper, Marketing, creativ connection werbeagentur GmbH

I studied German with Angela for two years and I am very satisfied about the progress I made. Her explanations were always precise and easy to understand. Her friendly and professional manner was one of the reasons why I felt welcome after moving to Germany.
Denis Egorushkin, Software Engineer, XING Marketing Solutions GmbH.

I've been studying German with Angela and Kerstin twice a week already for two years now and I've been more than satisfied with overall experience. Classes are structured and very professionally led, but with great flexibility regarding students wishes, curiosity and possibilities. I'm glad my first experience with German language started at eins-zu-eins.
David Mihael Bota, Senior Controller at Atlantic Grupa, Hamburg

Ms. Langenkamp is by far the best German teacher I have ever had. She is thorough, clear and consistent, but at the same time she makes the lessons so pleasant that you really want to learn. She and her colleagues have been teaching our team for 7 years and we are very satisfied with the cooperation.
Dharshini Bandara, Barrister, Managing Partner, Fleet Hamburg LLP

What makes Angela's German classes so special is the very personal approach she finds for each student. She does not always follow the textbook but is very flexible in adapting her lessons to each person and all situations. There are several one-on-one classes in our company and all of them are very different. I am very satisfied with the progress I have made in my course.
Anatoliy Frank, Senior Claims Executive and Technical Manager, Skuld Germany GmbH

Our English training with eins-zu-eins has been an entirely positive experience that has really helped all participants to reach their goals. There is a very positive atmosphere in the class. With his highly adaptive and flexible approach the teacher Matthew addresses the wishes and requirements of our company.
Christina Freier, Assistentin der Geschäftsleitung, PARTNER SHIP DESIGN, State of the Art Cruise Ship Design GmbH

Can a German lesson be fun? Really? Yes, indeed! Angela mixes theory and grammar with interesting and entertaining discussions, all well balanced at "my level" of German and with topics that interest me. She helps me to continuously advance and improve my German with a good speed and pressure, but never not too much to make the whole "learning German thing" overwhelming. I can with pleasure recommend Angela as German Teacher!
John Baumgartner, Director, Sales Inflight & Catering Gebr. Heinemann SE & Co. KG

I am very happy that I have been able to take part in an in-house Italian course for several years now. My trainer Marina teaches me grammar as well as colloquial expressions which make my Italian sound more natural. I have completed level B2 and now there is more room and opportunity for challenging conversation on a variety of topics. This makes me feel more confident when I speak Italian.
Oleksandra Büntig, Category Sales Manager, Gebr.Heinemann SE & Co.KG


Let's get started – Let's meet up!
Ask for an appointment – free of charge, and non-binding.